When Clara Bensen decided to write a book about her adventure traveling to Turkey, Eastern Europe and the British Isles with Jeff, a university professor she had met just weeks before, on the internet dating site, "OKCupid", taking with them absolutely NO BAGGAGE, (not even a small backpack), the first thing she did was Google "how to write a book."
Of course, this came after her article about the trip, "The Craziest OKCupid Date Ever" went viral on Salon.com, leading to invitations to be on radio and TV (The View and Fox News) and literary agents calling HER.
"No Baggage: A Minimalist Tale of Love & Wandering" is Clara's memoir. But in addition to romance and exotic travel, Clara delves into some deep subjects. When she embarked on this adventure, she had only recently recovered from a long battle with severe anxiety, and she is frank and open about the impact this had on her life.
Spoiler alert: Clara and Jeff are still together, and the adventures continue.

I've been writing since I was small…that was my dream. That article I published in Salon was the first thing I had ever pitched or published. I think my route to becoming a writer was unexpected and very surprising.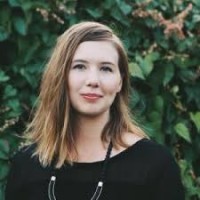 It's true 'if it's going to be it's up to me." At the same time, realize that no one ever achieves anything alone.
Podcast: Play in new window | Download