The subject of today's book, Leon Leyson, stayed mostly silent about the struggles of his early life in Poland during the Holocaust. But after Steven Spielberg made the movie "Schindler's List," and an LA Times reporter convinced him to tell his own story as one of the youngest workers on the List, Leon began speaking publicly at churches, schools and throughout the community. Finally, he decided to memorialize the tragic yet uplifting story in book form. "The Boy on the Wooden Box: How the Impossible Became Possible….on Schindler's List" is written for young adult readers, but will be enjoyed by all. The day after the manuscript was completed and delivered to his publisher, Leyson passed away.
Leon's son Daniel Leyson, former Olympian and head coach of the UCLA water polo team, has taken on the role of spreading his father's story, including his life after the War. Please join us.

In elementary school I had to write an essay about my father and so I came back the next day with the story of his life. It was eye-opening for my teacher. So that was about the time I learned the whole story. It wasn't something we talked about.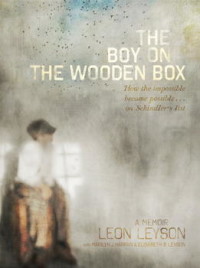 There is nothing noble in being superior to your fellow man; true nobility is being superior to your former self.
Podcast: Play in new window | Download