In this inspiring segment of Writers' Voices, we meet Magnus MacFarlane- Barrow, named in 2015 as one of the 100 most influential people in the world by Time magazine. We caught up with Magnus, who lives and works in Scotland, just before his visit to Iowa to promote his book, "The Shed that Fed a Million Children," and Mary's Meals, the amazing organization that began over a pint in 1992. Magnus and his brother saw a news bulletin about the war in Bosnia, which they had visited, and fallen in love with, during a religious pilgrimage as teens. They decided to gather together donated food and supplies and take them to Bosnia.
From this single, simple humanitarian effort grew Mary's Meals, which provides a daily meal to children at their place of education. At the time of this interview, Mary's Meals was working in 13 countries and feeding almost 1 million children daily. All profits from this book go to support Mary's Meals and it's mission – Every child deserves an education and enough to eat.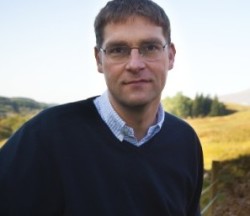 Whether your glass is half-empty or half-full, just be grateful you have a glass with something in it.

I don't think there's anyone in the world who can't play a part in the mission of Mary's Meals one way or the other, and we're all equally important.
Podcast: Play in new window | Download