If you only listen to one Writers' Voices interview this month, this is the one. Michael Gruenbaum was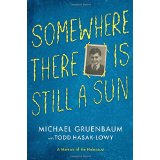 born in Prague in 1930. At the age of 11 Michael was sent, with his mother and sister, to the Terezin concentration camp. Miraculously, they all survived, although his father, a lawyer, was killed by the Nazis.
In "Somewhere There is Still a Sun," Michael, with the help of experienced writer Todd Hasak-Lowy, tells the story of those Holocaust years from a child's perspective, which is ideal for Young Adult and middle grade readers.
Second, we visit with Dennis Raimondi, host of Speaking Freely on KRUU 100.1 FM in Fairfield Iowa, about his series of interviews with Holocaust Survivors, which is now part of the archives of the National Holocaust Museum.
Our human compassion binds us the one to the other – not in pity or patronizingly, but as human beings who have learnt how to turn our common suffering into hope for the future.

We tried to be children as much as we could under the circumstances.
Podcast: Play in new window | Download