In "Diamond Grove Slave Tree," national poetry slam team member and writing teacher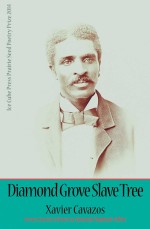 Xavier Cavazos paints an unforgettable portrait of George Washington Carver in verse. From the titular poem that describes a lynching that the young Carver witnessed in Missouri, to the poem about his death, the words are spare yet powerful.
Xavier Cavazos earned his MFA in Creative Writing and the Environment from Iowa State University, the same school where Carver studied botany as its first black student in the 1890's before becoming the first black faculty member. He was later recruited by Booker T. Washington to head the Ag Department at the newly formed Tuskegee Institute.
"Diamond Grove Slave Tree" is the winner of Ice Cube Press' 2014 Prairie Seed Poetry Contest.
Minds are like parachutes – they only function when open.

On the MFA in Creative Writing and the Environment:
"There is a major focus on environment and sustainability at ISU in Ames…. the hope is the MFA students will have the science classes inform their writing… and be voices for nature."
Podcast: Play in new window | Download