Marie Lu is a hot commodity in the world of Young Adult fantasy fiction. She published book 1 of the very successful Legend trilogy in 2013. Like all 5 of her books so far, it was a New York Times bestseller.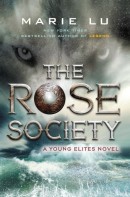 Born in China, Lu didn't really understand that books had authors as a child. But once she did, and that she could be an author, nothing could stop her.
"The Rose Society" is the second book of The Young Elite series, which has been described as "Game of Thrones Meets X-Men." What really makes this book stand out, in a chilling way, is that the heroine is evil. In our interview, Marie talks about what it's like to write from such a dark and twisted perspective, and how long her "overnight" success really took.
Podcast: Play in new window | Download