Judy Batalion's mother was a pathological hoarder. That's not the most interesting thing to know about Judy, but it is at the heart of her memoir, "White Walls: A Memoir About Motherhood, Daugherhood, and the Mess In Between.".
In our conversation with Judy we learn the root of this pathology, which extends back at least two generations to her grandmother, who escaped from Poland to Siberia just before the Nazi's invaded. We follow Judy as she grows from overcompensating for her mother's mess by her own militant minimalism, to acceptance and understanding when she herself becomes a mother. We also follow her career, from museum curator to stand-up comedian, to essayist and, finally, published author.

My mother was born into so much loss and chaos and family trauma that it is very understandable to me now that she held on to things as a way to create safety for herself, and comfort.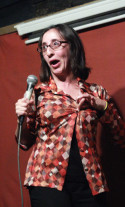 If you had a bad day, don't worry. We all have a reset button. It's called "tomorrow."
Podcast: Play in new window | Download