Drs. David and Rhoda Orme-Johnson are among the pioneers of the Transcendental Meditation that are profiled in George Ellis' "Symphony of Silence: An Enlightened Vision." Both of the Orme-Johnsons were founding faculty members of Maharishi International University (now known as Maharishi University of Management, or MUM) in Fairfield, IA, the home of Writers' Voices.
Dr. David Orme-Johnson is both an artist and a scientist; a painter, researcher, and the author of over 100 articles describing his research on the effects of meditation, most published in peer-reviewed journals. In this interview, David describes how he became interested in meditation, how his initial experiences in meditation changed his life, and how his background in behavioral psychology led to and influenced his research on meditation.
Dr. Rhoda Orme-Johnson was chair of the Department of Literature and Languages at MIU for many years, and co-editor of "The Flow of Consciousness: Maharishi Mahesh Yogi on Literature and Language", a compilation of lectures by Maharishi on the literary process, critical theory and technique. For "Symphony of Silence," Rhoda was interviewed by George Ellis, who then transcribed the interview into essay form, resulting in a very personal insight into the profound effect of TM in her life.
Originally broadcast 7/19/13.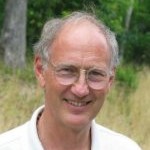 Podcast: Play in new window | Download