Ellen Hopkins always wanted to be a writer. In her 30's, she began her writing career as a freelance journalist. From there she branched out to children's nonfiction., publishing 20 books such as "Orcas: High Seas Supermen." As a teen and young adult, Ellen's daughter struggled with drug addiction, and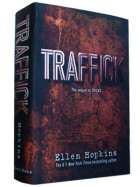 out of this sorrow came Ellen's first novel, written in verse, "Crank,' published in 2004. It was an immediate success, launching Ellen into the ranks of New York Times bestselling author.
"Traffick" is Ellen's fifteenth published novel, and is a sequel to the #1 NYT bestseller "Tricks." Written for young adults, it deals with the reality of sex trafficking in the United States today.
In this interview, Ellen discusses the challenges of writing in verse; how frequently her books have been banned and the importance of writing about difficult subjects for teens to open up the conversation. She also tells us about her non-profit organization, Ventana Sierra, to help kids in need, such as former foster kids, with college.
Podcast: Play in new window | Download